Our new MISS INTERCONTINENTAL 2009 is Hannelly Quintero from Venezuela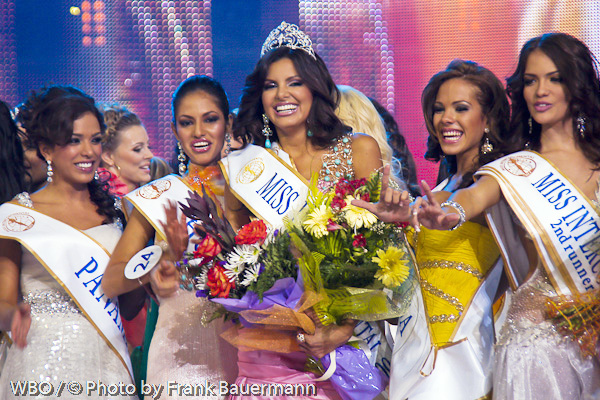 (WBO) MINSK, 28 September – The crown "Oriental Holy Water" of the 38th Miss Intercontinental pageant goes to Hannelly Quintero of Venezuela. In the "sold out" Football Arena in Minsk on 27 September, 4500 people were attending the 2009 contest. The show was broadcasted Live in over 30 countries.
---
| | | | |
| --- | --- | --- | --- |
| | | | Grand Final Miss Intercontinental 2009 |
---
I was invited to the online round table discussion for TV ONT.by – see the complete video here:



Photo: TV ONT.by
Watch here all the official ONT.by-videos, so lot of different trailers and everytime in the news all over the day
stay tuned…!
My number in Belarus is +375 44 46 375 11. Call me, if it is urgent or leave a message via contact
---
(WBO) Hannelly Quintero (23) is the third winner from Venezuela within 9 years, following Ligia Petit and Emmars Pinto. Hannelly is a professional TV presenter and famous model from Venezuela. With a height of 177cm and dream figure of 90-60-90 she left all other 55 candidates from around the Globe behind.
Miss Belarus Maria Yesman became the first runner up, she also took the Miss Intercontinental Europe and the Miss Congeniality title.
The second runner up title went to Rosana Padro from Puerto Rico who was just 10 points behind Maria Yesman. Rosana Padro (21) is a student and likes reading and dancing.
Anna Tarnowska from Poland became the third runner up. She is a student and 23 years of age.
Mc Keyla Richards from Curacao received the fourth runner up title. Mc Keyla Richards is a professional model and is fond of signing, reading and traveling.
Cha Ye Lin from Korea was recognized as Miss Intercontinental Asia Pacific. Cha Ye Lin is a student and she is 22. Her height is 173cm. She is practicing yoga, likes reading and knows English.
19-year-old Hiwot Assefa Tesfaye from Ethiopia got the title Miss Intercontinental Africa. Her height is 177cm. She likes listening to music, speaks English fluently.
Hannelly Quintero from Venezuela also became Miss Intercontinental Americas.
The judges panel with celebrities like Alexander Rybak or Dima Bilan have given the title Miss Intercontinental Caribbean to Rosana Padro from Puerto Rico.
The Best National Costume title went to Massiel Vidal from Peru.
Yanni Penaloza from Panama got the "Best Body Award" title. The Miss Photogenic title went to Miss Martinique Andy Govindin.
The President of Belarus Mr Alexander Lukaschenko was attending the 2 1/2 hour show with international Artists like Lou Bega, Aresh, Alexander Rybak or Morandi
---
Miss Intercontinental 2009 Contestants:
Afghanistan
Zallascht Sadat

Armenia
Lilit Nersisyan

Australia
Erin Gleeson

Austria
Helena Duchonova

Bahamas
Dashanique Poitier

Belarus
Maryia Yesman

Bolivia
Adriana Barahona

Brazil
Camila Brant

Canada
Nelly Hadi

Colombia
Veronica Velasquez

Curacao
Mc Keyla Richards

Czech Rep.
Zina Stovickova

Denmark
Lyudmilla Bakhur

El Salvador
Iris Martinez

Ethiopia
Hiwot Assefa Tesfaye

Estonia
Kadri Nogu

Finland
Elsi Suolanen

Germany
Svetlana Tsys

Georgia
Lika Orjonikidze

Ghana
Afula Akycampong

Greece
Elizampeth Berisa

Guadeloupe
Priscilla Villeroy Boston

Guatemala
Nilda Tumax

Honduras
Leslie Kristoff

Hungary
Aryee Claudia Dedei

Ireland
Alanna Thomas

Korea
Cha Ye Lin

Latvia
Anita Baltruna

Lebanon
Nicole Khoury

Lithuania
Aiste Karanauskyte

Macedonia FYRO
Silvana Stojkovska

Malta
Debbie Mallia

Martinique
Andy Govindin

Montenegro
Snezana Buskovic

Netherlands
Franca Nieuwenhuys

Nigeria
Sarah Uzoya Arebamen

Norway
Lene Okkerstrom

Pakistan
Mariyah Moten

Panama
Yanni Penaloza

Peru
Massiel Vidal

Poland
Anna Tarnowska

Puerto Rico
Rosana Padro

Romania
Maria Lia Bledea

Russia
Anna Mezentseva

Serbia
Marijana Grgic

Singapore
Yong Ying Tan

Slovak Republic
Lea Sindlerova

South Africa
Jezelle Kruger

Swaziland
Thembakazi Hlophe

Taiwan
Lan Ting Peng

Thailand
Charlene Sathiraboot

Turkey
Sevtap Ergec

Ukraine
Kateryna Boyko

USA
Stephanie Pagan

Venezuela
Hannelly Quintero

Zimbabwe
Ashleigh Cloete

---

(WBO) Back to Minsk we just have a few days to go to the Grand Finale of Miss Intercontinental 2009 in the Minsk Football Arena. 250 Journalists from around the world will attend the show which is to be seen worldwide via Satellite and on air in over 32 countries.

After the show all candidates will have a "meet and greet" with Belarus President Alexander Lukaschenko.

The stage is ready to set and rehearsals are beginning – take a look at the newest galleries.

---

(WBO) The "2009 MISS INTERCONTINENTAL" will be chosen during a spectacular show in Minsk. The most beautiful girls from all over the world will travel toBelarus what means "White Russia" soon in September.

The World Beauty Organization Panama and 2-nd National Tv Channel will introduce a grand show – the MISS INTERCONTINENTAL 2009 – Final, which will take place in Minsk (Belarus) on the 27th September. The MISS INTERCONTINENTAL contest, which started off in 1971, is in the top five of the most prestigious beauty competitions in the world. The challenge prize – a crown made of platinum with 720 diamonds, worth about $361 thousand, is thought to be the most expensive crown of all beauty pageants.

The 2-nd National Tv Channel (ONT) has a great experience in creating striking and impressive television projects, entertaining programs, sport broadcasts and licensed shows.

One of the presenters of the Final will be the winner of the EUROVISION 2009 contest Alexander Rybak.

The MISS INTERCONTINENTAL 2009 contest will take place in a hall for 4000 spectators with a big stage and the most modern stage, light and sound equipment. The presentation and broadcasting of the Final will be accomplished in Russian and English. The art director from Moscow Natalia Petukhova and Australian Choreographer Torsten Galts guarantee a magnificent show. The representatives of TV companies will be given commentary cabins for live broadcasting.

A special present for the spectators and all contestants will be the appearance of top popular singers – representatives of six continents. We love to see you all and soon in Minsk.

Information: The geographical position of Belarus is unique. The country is situated at the junction of Europe and Asia. Anyone who has once been here observed the beauty and charm of Belarus. The one third of Belarus is covered with forests. The country is often called 'blue eyed' thanks to thousand rivers and lakes. Belarus is a country with modern infrastructure and rich traditions. In the capital of Belarus, the city of Minsk, hotels, cafés, shops, restaurants, sports and entertaining centers will satisfy any taste and requirements level.

---

Frank Bauermann ist seit 2004 offizieller Fotograf der Miss Intercontinental Wahl.

---
Last year click here